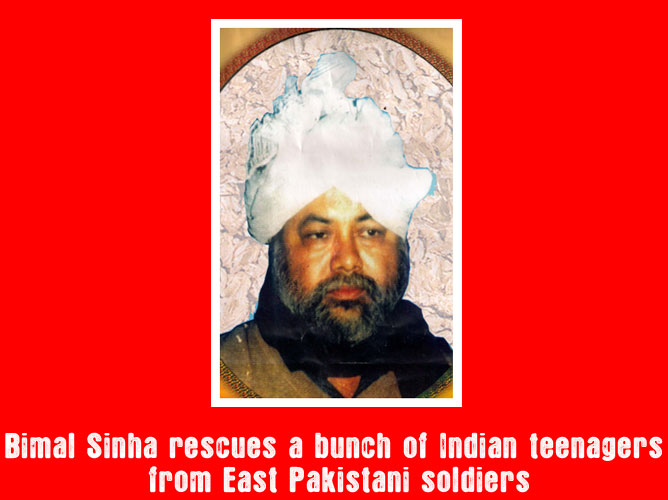 The decade Swinging Sixties was drawing to a close. One sultry afternoon the people of Kamalpur, a sleepy sub-divisional town in Tripura were startled out of their noonday siesta. A group of school students – a prankish bunch of teenagers – was seen advancing in a procession towards the Indo-Pak border (Bangladesh was East Pakistan then). Armed with a loud speaker the procession was being led by a student leader, a tall, fair, lean youth of around twenty. Anxiety writ large on their faces, the meek citizenry watched the most innovative display of a protest march.
Six boys had earlier crossed the border in a gambling mood only to be caught by the Urdu speaking Pakistani soldiers. There was no sign of their being sent back after a child-bogeying punishment as was expected in a case of juvenile delinquency of such magnitude. As tension peaked, the student community of the town decided to stage a march into the alien piece of land and organizing and leading them was Bimal Singha, an SFI activist and unchallenged leader of the town's youth. But such an extemporized rally was not likely to bear fruit. East Pakistan was in turmoil. The pro-independence movement was smouldering in an all-pervasive manner before breaking out in the form of a war. Every Bengali was a suspect in the eyes of the Pakistani soldiers. The helplessness of the captured boys' parents compelled Bimal Singha to once again take the plunge. He sneaked into East Pakistan one day and, using his rapport with the pro-independence activists, arranged for the rescue of the boys. His endeavour in the alien country included masterminding such dangerous plots as waylaying and ambushing army vans carrying the boys. From Kurmabagan camp near Kamalpur border, the boys were being sent to Sylhet. At Kamalganj, the pro- independence activists attacked the convoy carrying the boys. Four boys were killed in the encounter and the other two, Nepal Debnath and Khagendra Debnath of Kamalpur were rescued and brought back home.
by karunamay Sinha
Come tomorrow for another Bimal Sinha episode.
Comments

Santosh Kumar Singha, Bangalore
commented on 5 JUNE, 09 -- 3:20 PM



I appreciate the people involved in taking initiative to let us know our great leader late Bimal Sinha in depth. We youth aspire a leader like him who can lead us in giving identity to the whole world, dreamt by Late Bimal Sinha. I hope this Bimal Sinha week will ignite the blood of many Bishnupriya Manipuri youth to take some initiative for the development of our community. I thank the people involved in taking the initiative viz. Karunamoy Sinha, Henry Sinha and Jyotirmoy Sinha and to other people who are directly or indirectly involved. I thank Jyotirmoy Sinha for his creative part in designing front page.
---------------------------------------

Thanks