What's common between Bishnupriya Manipuris and the Meities? Why there are similarities
Culturally the Meiteis and the Bishnupriya Manipuris cannot be distinguished from each other. As to religion it goes without saying that these two sections have formed a unique religion. The Bishnupriya Manipuris accepted all the prominent Gods of the Meiteis, namely Sorarel, Pahangpa ,Senamahi , Apokpa and others, just as the Meiteis adopted numerous Hindu Gods. As the next step when the Vaishnavism of Sri Chaitanya entered Manipur, all these two sections, excepting some spurious cases, adopted the religion. This religion brought a radical change in the Manipuri Society and both the Meiteis and the Bishnupriya Manipuris were equally influenced by it. As a result, they developed a homogeneous culture and the concept of one community grew among them. This can be testified by the facts that there was no bar to matrimonial relation between the two sections. A girl of any section could formally be accepted into the other section without any propitiation. Members of these two sections took parts jointly in religious and social feasts and ceremonies. The greatest features of the Manipuri culture are the Kirtana and Raaslila and these features have got equal prominence in both the sections. Member of the two sections equally take part in them, they equally feel proud for the fine arts. Artists of any section would with equal honor and feeling of kin ness take part in the Kirtanas of the other section. Marriage system, dress, ornaments and everything are common to both the sections. Thus, it is clear that the Meiteis and the Bishnupriya Manipuris formed a homogeneous culture in Manipur.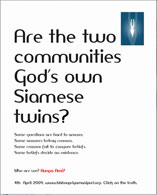 Language, the major differentiator between the two communities.

The only impediment is, as ill luck would have it, the difference of language: the Meitei language is of the Tibeto-Burman group whereas the Bishnupriya Manipuri language falls in the group of Indo-Aryan. In Manipur there is no problem, because the Bishnupriya Manipuris there adopted Meitei as their mother tongue. But the Bishnupriya Manipuris living outside Manipur had to leave the country before the final unification, and as such, retain their language.
Comments

Dr. Rajib Sinha, New Delhi
commented on 4 MAY, 09



Before all I am thanking you so much for your most valuable & well covered informations. Dear one thing I would like to place in favour of me, you and all of our community is that why not we make right ups in different editions about the history as you have of ou Manipuris & BMs and send to big socialites, politicians because their kind help is our great need. What we want exactly from the govt. is totally upon them, so my suggestion is to send right ups on their birth days and their personal events through our high fly personalities. If I'm wrong just forgive me.